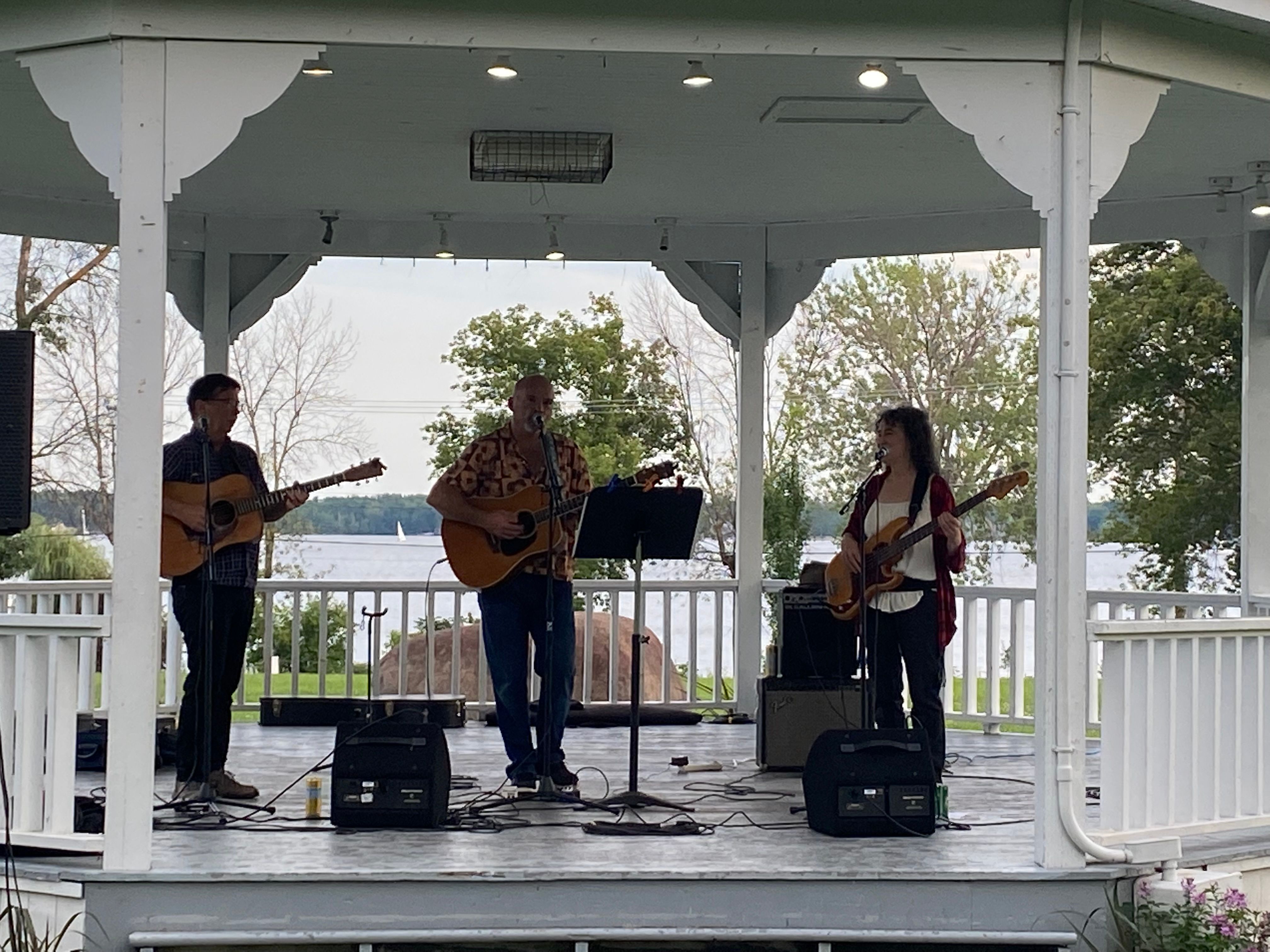 Summer sounds along the river
Thanks to everyone who came out to our concert in Baie d'Urfé last night in spite of the pessimist weather forecast. In fact, it was beautiful and clear at Fritz Memorial Park along the St. Lawrence, and even the mosquitoes held off until we were breaking down the stage after the show.
Tod, Ellen and Dave played a lot of the material from Coming Home, along with a couple of songs that are too new to have made it onto the album. And, of course, there were a couple of chestnuts, including Like a Ship, one of Ellen's first contributions to the Steel Rail songbook back in the 1990s.
The setting is one of the most beautiful we have ever played: a gazebo just across the road from the eponymous bay in the town's name. The sunset, the sailboats and the sound of acoustic music is something extraordinary.
The only downsides last night: the humidex (unusually high even for summer in Montreal) and the aforementioned mosquitoes, which came out with a vengeance as we sat under a tree in the park after the vehicles were packed up. Dave reported more than two dozen bites, a number that was independently verified the next day.
Thanks to Louise Otmar and Keith Fyckes for inviting us to be part of the summer concert series again this year, and  to the town of Baie d'Urfé for presenting this free series every year. A particular shoutout to the town workers who helped us set up and break down the stage -- un gros merci à tous.
Here's the set list for last night's show. All of the songs are SR originals except for the Gillian Welch cover. Thanks again to everyone who helped make it a special night.
1. Just Waiting for a Train
2. When Are You Coming Home
3. Argyle Street
4. Nebraska in My Dreams
5. Rain
6. Winter Wren 
7. Annabelle (Gillian Welch)
8. Like a Ship 
9. Old Forgotten Road
10. Paper Girl
11. The Last Time
12. If By Midnight 
13. Under a Prairie Sky
14. The Comet
15. Another Stolen Day
16. Kate's Song
17. I'll Fly Away