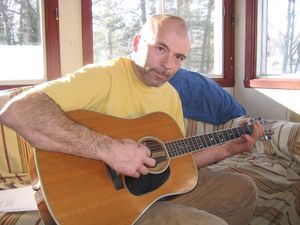 Lead singer Tod Gorr grew up in the Ottawa Valley, absorbing the sounds of singers like George Jones and Bill Harrell. One critic said his fluid baritone and distinctive phrasing "are as country as the livestock prices and complaints about the weather."
Another enthused that he "has a voice that can make angels in Hillbilly Heaven weep."
Tod went to school in Kingston, Ont., but spent summers near the hamlet of Plevna, near Sharbot Lake. Those days left him with a lifelong connection to the land that shows up in many of his songs.
Old Forgotten Road, from the album The Road Less Travelled is an ode to a childhood walk Tod took with his grandfather (and the only song ever written that contains the place name Plevna, Ellen says). There Was a Time (A Thousand Miles of Snow) is based on what Tod felt as he saw the city of Kingston sprawl out into the forests around it. And My Valley (from River Song) is about looking down onto the peaks of the mountains while flying over the Rocky Mountain range.
Tod and his family now live in Prévost in the Laurentian Mountains north of Montreal, although he has land near Plevna and spends as much time as possible there.

Here are Tod's songs on the last four Steel Rail albums.
On A Thousand Miles of Snow
Angel Eyes
Milkweed Pods
There Was a Time

On The Road Less Travelled
Late Autumn Days (with Ellen Shizgal)
Old Forgotten Road
Years Still Pass

On River Song
Belmont Days (with Lucinda Chodan)
My Valley
On Coming Home
The Last Time (with Ellen Shizgal)