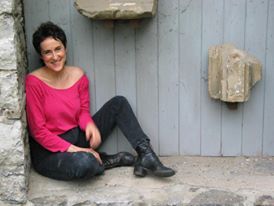 Bassist and singer Ellen Shizgal is a veteran of the Montreal folk scene who was involved with the management of such legendary coffee houses as the Yellow Door and the Golem and sang in the Quebec folk bands Harlequin and Stringalong.  She first picked up the bass in Steel Rail's early days when it was decided that three acoustic guitars was one too many. 
Ellen enjoys growing acclaim for her strong original tunes, which add a different colour to the Steel Rail mix. Like the other members of Steel Rail, her musical influences include bluegrass and country as well as folk.  Those influences, as well as her early love of Joni Mitchell and Gordon Lightfoot, can be heard in originals such as Solitaire, covered by Bill Garrett and Sue Lothrop, and Prairie Sky, on Penny Lang's 2006 Juno Award-winning album. 
In the 1980s, Ellen began hanging out at the late, lamented Blue Angel bar on Drummond St., listening to old time country songs and taking to the stage with newly discovered classics. It was there that she first sang harmony to Tod's country-hued baritone and realized the blend was something special. When she, Tod and Dave began playing together, it was clear that the musical chemistry was more than the sum of their parts. 
Not surprisingly, given her crucial role in Steel Rail's intricate vocal arrangements,  Ellen has a particular interest in and love of harmonies. But from time to time, she takes the vocal spotlight and when she does, one reviewer wrote "she leaves you hungry for more."
Here are Ellen's songs on the last four Steel Rail albums.
On A Thousand Miles of Snow
Solitaire
Lay Me Down With the Blues
Right of the Moon
On The Road Less Travelled
Late Autumn Days (with Tod Gorr)
Prairie Sky
Closing Time (with Lucinda Chodan)
Like a Ship
On River Song
Tread Softly
Still Keeping Time
On Coming Home
When Are You Coming Home (with Dave Clarke)
Rain (with Lucinda Chodan)
The Last Time (with Tod Gorr)
Winter Wren
Once in a While
Kate's Song