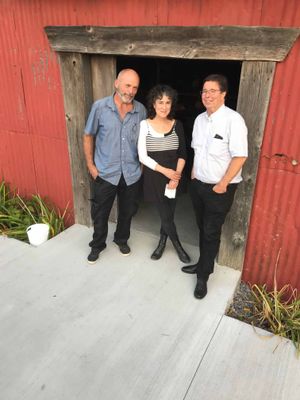 Coming Home one of top 10 folk albums of the year
What a nice way to wind down the year! 
Influential folk DJ Mike Regenstreif has picked Steel Rail's new album Coming Home one of the top folk albums of 2020.
Mike is the host of Saturday Morning on CKCU-FM in Ottawa.
In his Folk Roots, Folk Branches blog, Mike picked an array of artists from Joni Mitchell and Bob Dylan to the Kronos Quartet for his top 10 folk-rooted or folk-branched albums of 2020.
Steel Rail was No. 7 among that illustrious group. Here's what Mike had to say about Coming Home, which was released in late spring.
Finally, 15 years after their third album, Steel Rail – the trio of Dave Clarke (lead guitar, harmony vocals), Tod Gorr (guitar, lead and harmony vocals) and Ellen Shizgal (bass, lead and harmony vocals) – has released its fourth album combining finely-crafted songs (all three contribute songs, some in collaboration with Lucinda Chodan) with sublime singing and playing from the three-way corner of folk, bluegrass and country music. 
Please check out the other artists in this list of beautiful music. Thanks to Mike, one of the first critics ever to write about Steel Rail. And  thanks to all the folk DJs around the world who connect musicians with the people who want to hear their music.
We couldn't do it without you.