Festival de la Voix show in Hudson April 3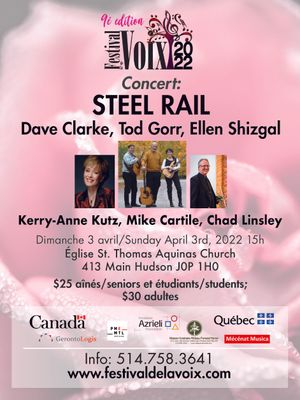 We're delighted to announce that we'll be performing as part of the Festival de la Voix in Hudson on April 3. 
The 3 p.m. concert is part of the ninth edition of the festival, which takes place in various locations around Montreal Island between March 19 and April 10. 
The festival was founded in 2012 by singer and voice teacher Kerry-Anne Kutz and her students Sonia Castiglione and Sheila Faour-Warren to celebrate exceptional professional singers and instrumentalists of various genres.
This year's version features performances by Choralissimo! (March 19), Oliver Forest and the Imani Gospel Singers (March 26) and Dark Divas (April 2), among others.
Steel Rail will be joined by Kerry-Anne, her musical partner Mike Cartile and pianist Chad Linsley in the April 3 show.
Tickets are $30; $25 for seniors and students. To buy tickets, please click  here.