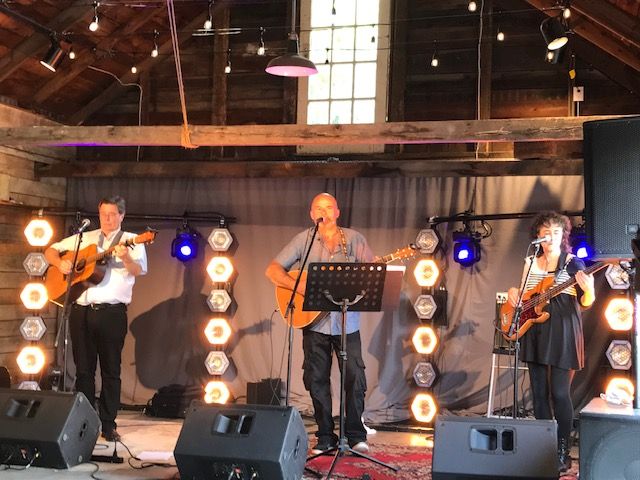 Beautiful day, beautiful festival
Thanks to everyone who came out on a balmy fall day to see us perform at the Hudson Music Festival in Hudson, Que., on Sunday afternoon.
There were lots of mask-wearing friends old and new at the show in the airy Alibi Barn on Main Road. The show was recorded by MAtv 609, télévision régionale du Grand Châteauguay, de Vaudreuil-Soulanges, du Haut-St-Laurent, du Roussillon, du Jardin-de-Napierville et de Beauharnois for broadcast later this fall.
Tod, Ellen and Dave played material from the new album, Coming Home, along with some old favourites (Prairie Sky and What My Mother Saw were highlights) as well as a couple of brand new songs: Nebraska in My Dreams and The Comet.
Thanks to organizers Blair MacKay and Lynda Clouette-MacKay, who programmed the festival -- what a treat to join Rob Lutes and KORA Flamenca in the lineup. It was magical to watch a  nearly full moon rise in the indigo sky to the sounds of kora and flamenco guitar Sunday night.
Please stay tuned for details of the MAtv broadcasts, and a big shout-out to the sponsors, including Caisse Desjardins de Vaudreuil-Soulanges, Patrimoine Canada, the town of Hudson and MAtv.